Barley-Finished Bone-In Ribeye For Two
The Cream Co. signature steak. Ribbons of flavor-packed fat shoot through the Ribeye, making it one of the richest, most beef-forward cuts on the animal, and a Cream Co. house favorite. At the center of this coarse grain marbled meat, the fine grain eye of the Ribeye is tender and smooth. The two deliver a complimentary eating experience unique to the Ribeye. 
The Bone-In Ribeye for Two is ideal for grilling. 
Our British Baldies beef is pasture raised and holistically finished. It is whole carcass dry-aged 14–21 days before being broken down into primals and steaks. It's a rare treat to enjoy grass-fed, grain-finished beef that's also 100% corn-free and soy–free.

Steak & Eggs the Hilda & Jesse way >
Barley-Finished
Dry-Aged
Grass-fed
---
Delivery Details
🥩 Free shipping on orders $150+
It can take our butchery up to a week to prepare your order.
PRIME RIB, BEEF TENDERLOIN, TURKEY & BONE-IN HAM ORDERS
If you order a prime rib, beef tenderloin, bone-in ham, or turkey, your order should ship sometime between December 18 - 21. Brisket, lamb rack or boneless ham will ship within a week of ordering.
SHIPMENTS
Orders ship on Mondays, Tuesdays, Wednesdays and sometimes Thursdays. Once your order is ready you will receive a shipment confirmation. All orders ship via UPS 2-day (or less) transit time.
LOCAL PICK UP
Pick up hours are Monday-Thursday 8-5pm & Friday 8-3pm. You will receive a notice when your order is ready. If you're unable to pick your order up during our normal pickup times, please email us at retail@creamcomeats.com. We're happy to accommodate other pickup times. Note: If you are hoping to pick up meat for the weekend, please ensure your order is placed by 3 PM on Wednesday.
SUBSCRIPTION ORDERS
Your initial subscription order will ship within a week or less of your order date. Your subsequent subscription orders will ship following your selected delivery cadence. You will receive an email 5 days before your next delivery. Have more questions about our subscriptions? Check out our FAQ page.
---
ABOUT THE PROGRAM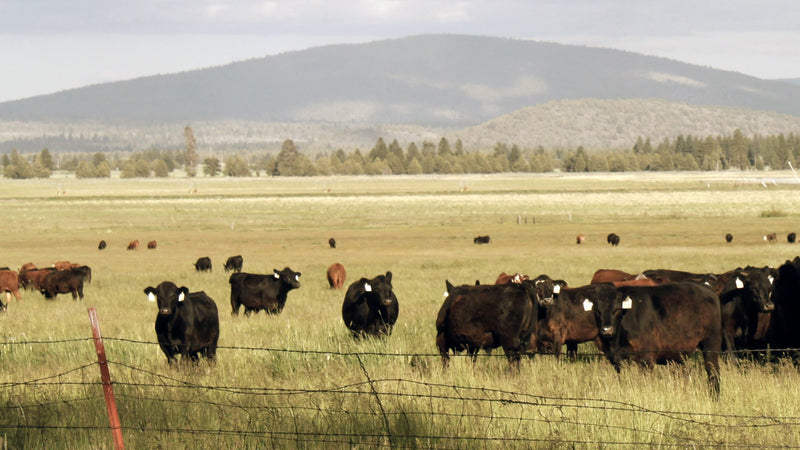 British Baldies
California & Washington, CA
Our flagship British Baldies program satisfies the serious carnivore looking for an elevated version of an archetypal young steer.
After years searching for a scalable and sustainable finished beef program, we decided to aggregate our own. We outlined our standards for taste, performance, sustainability, and scalability, and brought in our vertically integrated ranching partners at Prather Ranch and Klingeman Family Farms.
British Baldies spend 12–16 months on open range pasture. As the Angus/Hereford/Shorthorn crosses approach full size, they're finished on a no-corn, no-soy mix of barley, triticale (wheat & rye), and straw. The grains are slowly introduced into the steers' diet to ensure an easy digestive transition from native range to grain. The animals have easy access to open pasture, fresh water, and shade throughout finishing. Our finishing process takes 90-150 days. The animals are harvested onsite in the ranches' Certified Humane abattoirs.
Finally, the key to this beef's fully developed flavor and exceptional performance is dry-ageing the whole carcass 14–21 days. Hanging the carcass whole intensifies all the traits we were looking for in a young steer program—slowly breaking down the connective tissue of an already tender beast, shedding water weight, and concentrating intense flavor across all cuts.
It's a real and rare treat to enjoy grain-finished beef that's also 100% corn-free and soy–free. The British Baldies flavor profile is uniquely beefy—the richly marbled lean meat shines while still providing an unctuous full–flavored fat that caramelizes quickly without "greasing out" like corn and soy-finished beef.