The Bunker Box
Our top-seller. What started as our answer to pandemic shortages has evolved into a carefully curated box of the meats we want to cook week after week.

The perfect roasting chicken. A rotation of our favorite steaks & chops. Fresh house-ground beef and pork. Bacon that just might give you religion. And a sausage surprise.
The Bunker Box Includes:
2 Barley-finished or Grass-finished Prime Steaks

(Ribeye, New York Strip, or Filet, etc.), 12oz each

1 Pasturebird Whole Chicken
Two Klingeman Farms Pork Chops, 8oz each

1 pack Cream Co. or Journeyman Meat Co. Bacon

1 lb Cream Co. Ground Beef
1 lb

Cream Co.

Ground Pork
1 lb Cream Co. or Journeyman Meat Co. Sausage

1 lb Cream Co. Stew Meat
Cream Co. works with small farms and artisan producers. The exact contents of each box are based upon availability, and sometimes a substitution is necessary.

Questions? Check out our FAQ page.

---
Delivery Details
🥩 Free shipping on orders $150+
It can take our butchery up to a week to prepare your order.
PRIME RIB, BEEF TENDERLOIN, TURKEY & BONE-IN HAM ORDERS
If you order a prime rib, beef tenderloin, bone-in ham, or turkey, your order should ship sometime between December 18 - 21. Brisket, lamb rack or boneless ham will ship within a week of ordering.
SHIPMENTS
Orders ship on Mondays, Tuesdays, Wednesdays and sometimes Thursdays. Once your order is ready you will receive a shipment confirmation. All orders ship via UPS 2-day (or less) transit time.
LOCAL PICK UP
Pick up hours are Monday-Thursday 8-5pm & Friday 8-3pm. You will receive a notice when your order is ready. If you're unable to pick your order up during our normal pickup times, please email us at retail@creamcomeats.com. We're happy to accommodate other pickup times. Note: If you are hoping to pick up meat for the weekend, please ensure your order is placed by 3 PM on Wednesday.
SUBSCRIPTION ORDERS
Your initial subscription order will ship within a week or less of your order date. Your subsequent subscription orders will ship following your selected delivery cadence. You will receive an email 5 days before your next delivery. Have more questions about our subscriptions? Check out our FAQ page.
---
ABOUT THE PRODUCER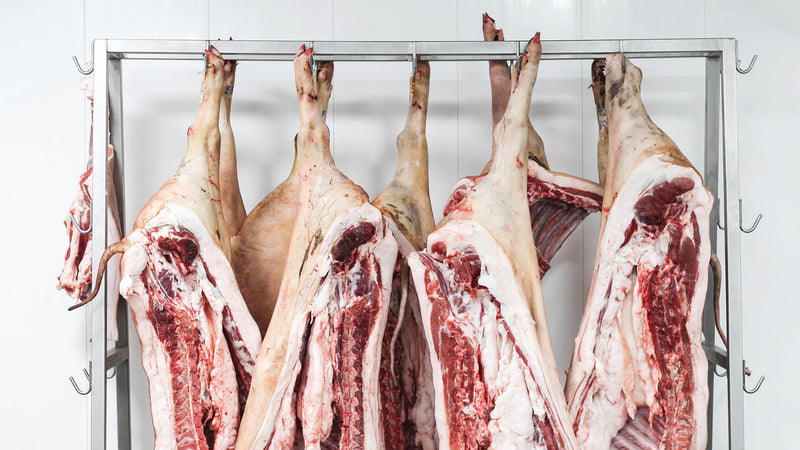 Preserving the art of whole animal utilization is core to our mission. We put every part of the animal to work. That means for every beautiful prime steak and chop we cut, we find a home for all the tasty trim.
At our East Oakland USDA cut and wrap facility we specialize in whole animal and primal dry aging, grinding and pattie making, marinating and tumbling, and preparing fresh sausage. We make our own bacons, hot dogs, and smoked sausages in collaboration with our longtime Non-GMO, Food Alliance Certified hog producer, Klingeman Farms, with our Smoke Shack partners in Washington.