Barrel Smoked Bacon
Save 15% when you buy 5 or more!
Enter code BULKBUY at checkout.

Sundays are better with bacon. Heck, everyday is better with bacon. Journeyman Meat Co.'s barrel smoked bacon is hand cured and smoked with wine barrels instead of wood chips which gives it a unique flavor.

Harvested in Sonoma County from heritage breed, vegetarian fed, crate free hogs raised only on small family farms that use humane and sustainable animal farming techniques.
12 oz package
---
Delivery Details
🥩 Free shipping on orders $150+
It takes our butchery 2-3 business days to prepare your order.
SHIPMENTS
Orders ship on Mondays, Tuesdays and Wednesdays. Once your order is ready you will receive a shipment confirmation. All orders ship via UPS 2-day (or less) transit time.
LOCAL PICK UP
Pick up hours are Monday-Thursday 8-5pm & Friday 8-3pm. You will receive a notice when your order is ready. If you're unable to pick your order up during our normal pickup times, please email us at retail@creamcomeats.com. We're happy to accommodate other pickup times. Note: If you are hoping to pick up meat for the weekend, please ensure your order is placed by 3 PM on Wednesday.
SUBSCRIPTION ORDERS
Your initial subscription order will ship within a week or less of your order date. Your subsequent subscription orders will ship following your selected delivery cadence. You will receive an email 5 days before your next delivery. Have more questions about our subscriptions? Check out our FAQ page.
---
ABOUT THE PRODUCER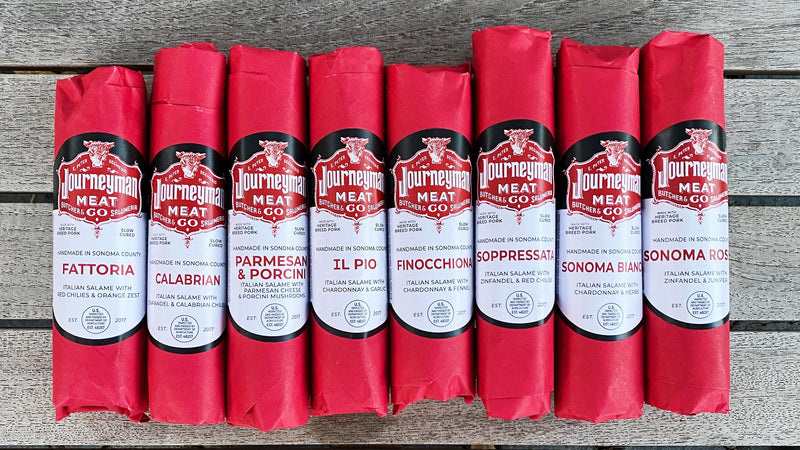 Journeyman Meat Co.
Healdsburg, CA
Journeyman Meat Co. marries old-world charcuterie techniques with the bounty of Sonoma agriculture at the only USDA-certified meat curing facility — or salumificio— in wine country.
In a world where time is an increasingly precious resource, time remains a vital ingredient in Journeyman Meats' exquisite small batch charcuterie and salumi.
Vintner and salumist Pete Seghesio produces charcuterie the old-world way, using proprietary cultures imported from Parma. Four Italian designed small-batch fermentation chambers and two aging rooms — one for salami and one for whole muscle curing — balance state of the art modern technology with time-tested Italian tradition.
Pete maintains his aging rooms at the lowest temperatures and highest humidity in the industry. This allows natural fermentation promoting pH and enzymatic development without using additives like synthetic acids and industrial cultures or requiring excessive sugar to feed the bacteria. The process takes longer than most salumificio invest, and the difference is clear. Time leads to a more consistent, delicious, evenly cured, and all-around better product.