Honey Glazed Spiral Ham
Fully-cooked Berkwood Farms Honey Glazed Spiral Sliced Bone-In Ham. They look great, are easy to prepare and most importantly are delicious. This year we're offering it in two different sizes - perfect for any size gathering. 
These honey glazed spiral cut hams are a sustainable and nitrate-free take on the classic spiral ham of your youth. Bone-in, honey glazed, and deliciously tender, this center-of-the-table wonder will bring a little Rockwellian charm to your table. 

Warming instructions:
Preheat oven to 275°F. 
With the gold foil on, place defrosted ham on the flat side in a roasting pan.
Heat to an internal temperature of 140°F.
Roasting time is generally 12-15 min/pound. 

The 8lb honey glazed ham feeds 4–6 people.
After opening package - serve within 7-10 days.

Fully Cooked
Heritage
Sustainable
---
Delivery Details
🥩 Free shipping on orders $150+
It takes our butchery 2-3 business days to prepare your order.
SHIPMENTS
Orders ship on Mondays, Tuesdays and Wednesdays. Once your order is ready you will receive a shipment confirmation. All orders ship via UPS 2-day (or less) transit time.
LOCAL PICK UP
Pick up hours are Monday-Thursday 8-5pm & Friday 8-3pm. You will receive a notice when your order is ready. If you're unable to pick your order up during our normal pickup times, please email us at retail@creamcomeats.com. We're happy to accommodate other pickup times. Note: If you are hoping to pick up meat for the weekend, please ensure your order is placed by 3 PM on Wednesday.
SUBSCRIPTION ORDERS
Your initial subscription order will ship within a week or less of your order date. Your subsequent subscription orders will ship following your selected delivery cadence. You will receive an email 5 days before your next delivery. Have more questions about our subscriptions? Check out our FAQ page.
---
ABOUT THE PRODUCER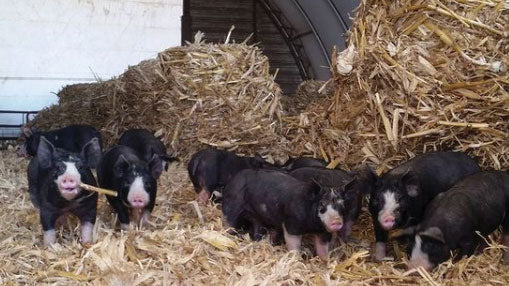 Berkwood Farms
Des Moines, IA
Berkwood farms consists of a network of small family farms from the midwest. The producers follow a firm set of protocols that are sustainable, humane and practical. Raised with room to roam in open-end hoop buildings that allow for indoor and outdoor activities. Grown naturally on a diet of wholesome veggies and grains, no antibiotics or hormones are ever used to promote unnatural growth.