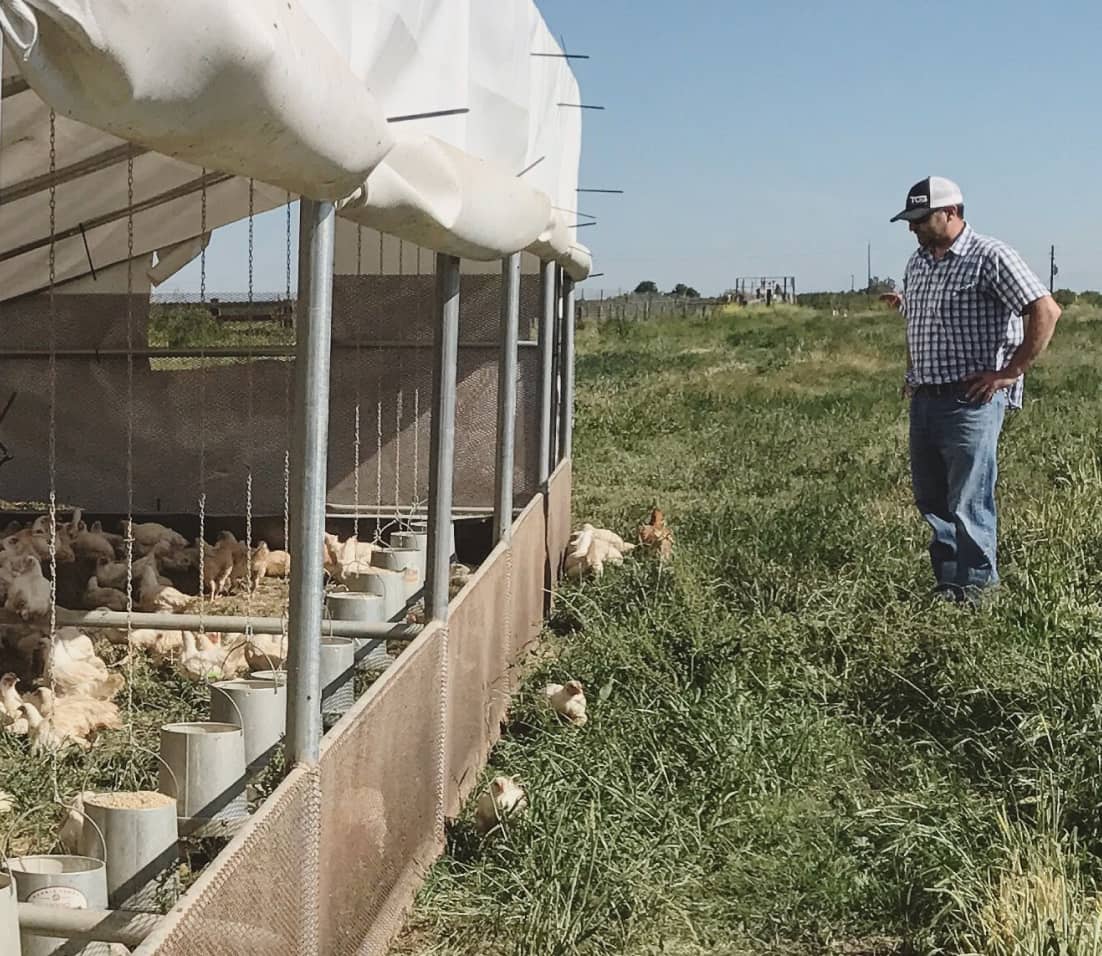 WE BUILD

SUSTAINABLE SUPPLY CHAINS

Cream Co. is committed to supporting and working alongside independent producers to deliver the highest quality, best-tasting meats we can find. Sometimes that means bringing best-in-class programs to new markets. At others, it's developing a new program from the grass up. We are invested in every aspect of our partners' operations from the art of heritage breed and feed selection through to the logistics of humane slaughter and efficient distribution.
---
THE INTERSECTION OF
IMPACT & QUALITY
At a minimum, all Cream Co. programs are "All-Natural, never-ever" — raised without hormones or antibiotics. But our focus is on Sustainable and Regenerative West Coast ranches. 
Our Sustainable ranchers look to preserve their lands' viability for generations to come. They work with—and not against—nature to manage their land and care for their animals. The sustainable practices we look for include building healthy soil and preventing erosion, prudent water conservation, organic disease/pest management, minimizing air and water pollution, and excluding or minimizing GMOs.
Regenerative agriculture goes a step beyond preservation and aims to restore land to its former productivity — by capturing carbon in the soil and aboveground biomass, which helps reverse the atmospheric carbon buildup driving the climate crisis.
Here's how our ranching partners are regenerating their land:
• Rotational grazing strategically moving the herd or flock allowing the pasture to rest and regrow
• Multi-species grazing different animals eat different plants, keeping biological balance in check
• Agroforestry & Silvopasture the mutually beneficial integration of fertilizer-producing livestock with shade, shelter, and feed providing trees and native perennial forage
• No-till farming & cover cropping fewer disruptions to the soil, continual plant and root growth
And how we know it's working:
• Increased topsoil
• Faster, more diverse forage growth
• Reduced erosion from wind and rain 
• Less runoff, increased water retention 
---
CERTIFIED BY MANY
VERIFIED BY US
We visit our partner farms multiple times a year to ensure they maintain these standards. Most of our partners undergo annual third-party auditing and carry sustainability, regenerative, and humane treatment certifications and verifications including Land to Market™ Regenerative, CCOF Organic, Certified Humane, Non-GMO Project , and American Grass-fed.
We work with farms pursuing new certifications to support and guide them through the certification process. While paying for official certification isn't always the right choice for a small farm, we believe there is worth in documenting the Regenerative impact our ranching partners are driving.
THE SPECTRUM OF SUSTAINABILITY
Ranching practices range from extractive and unsustainable to regenerative and fully self-sustaining. All Cream Co. programs are "never-ever" or better.
Focus on quantity over quality. Animals treated as commercial commodities rather than living beings. Herd raised in Confined Animal Feeding Operations (CAFOs) with large numbers of animals packed into a small area, without access to the outdoors. Animals fed grains purchased with government subsidies. CAFOs are also infamous for generating huge volumes of manure and other waste materials.
Also known as Industrial Ag. Resource and energy intensive — relies on synthetic chemicals and fertilizers for crops. Animals are administered hormones to maximize weight gain and antibiotics to preemptively treat diseases prevalent in CAFOs. Feed heavily reliant on GMO grains. Farmers separated from end diners by a long, opaque supply chain of corporate feedlots, slaughterhouses, and distributors.
Crops and animals raised naturally —without synthetic pesticides, fertilizers, irradiation, hormones, antibiotics, or feed additives. Animals have access to open pasture and hillside fields. Animals are grass-fed and grass-finished, or finishing grains are introduced into the diet gradually. May include a variety of third-party certifications including Non-GMO and Organic.
All the principles of natural farming with the additional ecological values of responsible land stewardship and humane animal husbandry to have the least negative impact, including replenishing soil nutrients, minimizing the use of water and non-renewable energy, responsible waste management, and maintaining local biodiversity and forests.
Going a step above natural and sustainable farming, regenerative agriculture involves a system of farming practices that restore grasslands, increase biodiversity, and enrich the soil, which in turn helps to fight climate change by capturing and sequestering carbon in the dirt and aboveground biomass. Healthy soil > healthy pasture > more flavorful meat.
WHO WE SOURCE
PARTNERSHIPS with sustainable and regenerative farms and artisan producers
---
OF OUR SPEND goes to local producers in California, Oregon, and Washington
---
AVERAGE ANNUAL REVENUE of our sustainable & regenerative partner ranches
---
NATURAL No hormones or antibiotics are ever used in the care of our animals.
---
WE CARRY A FULL PORTFOLIO OF

ALL-NATURAL, SUSTAINABLE, AND REGENERATIVE MEATS.